New Canoes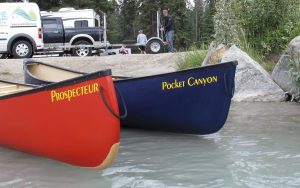 Of course we've got brand new Prospector Canoes on order this spring. They're the iconic Canadian canoe & for good reason. They're workhorses, performing well even when loaded down with gear.
You'll especially want to reserve your Prospector for your Maligne Canyon adventure.
Delivery Van
You can pick up your Jasper Boat Rentals at our store, Pure Outdoors, at 632 Connaught Drive or arrange for delivery when you complete your online rental form.
SUPs are HERE!
Paddleboarding might be new to you so why not rent a board before you commit to buying a particular brand. We can also help you out by hooking you up with locals who can show you some tips & tricks plus put you on to some of the best places to perfect your paddleboard skills.